Elavon for Credit Card Payment Processing
Verisave has years of experience working with merchants who use Elavon's credit card processing services. Elavon is a part of U.S. Bank's Payment Services division and works with nearly 1.3 million merchants in the United States. This large credit card processing company processes over three billion dollars in credit card transactions every year.
You can access Elavon services by signing up directly with the company or by going through a third-party reseller. One of their most well-known resellers is Costco Merchant Services. Elavon is one credit card processing company that has adapted well to developing trends in this industry. They offer low-cost plans for smaller retailers and do not impose an early termination fee.
Though Elavon is one of the more transparent credit card processing companies out there, signing up with Elavon could easily result in high start-up fees, high early termination fees, and higher rates altogether if you are unfamiliar with the credit card processing industry. It helps to have a team of credit card processing consultants like Verisave to help you control costs with Elavon.
Products & Services Offered
Most large credit card processors are catered more towards larger companies, leaving smaller businesses with higher rates. Elavon breaks their services down between small business' and enterprise sized corporations. This has made Elavon a better credit card processing option for a larger variety of businesses.
Mobile payment acceptance

Online payment acceptance

In-person payment acceptance

Talech for tablet POS systems

NCR Silver for payment acceptance and business management

Reporting tools

Secured data storage and transfer

Handheld POS devices

Interchange advisement and optimization
Services for small businesses from Elavon are primarily offered through Converge – a proprietary software company that creates Elavon's merchant solution tools.
ELAVON MOBILE PAYMENT ACCEPTANCE – Merchants can accept customer payments with their mobile device, either as a substitute for traditional POS stations or as a supplement to help during busy hours, using Converge Mobile. This service also supports chip cards. Elavon's mobile payment solutions also work with Apple Pay, Android Pay, and Samsung Pay.
ELAVON ONLINE PAYMENT ACCEPTANCE – Converge allows small businesses to accept and process debit and credit card payments, electronic checks, electronic gift cards, and EBT payments online. Information is protected through Converge's secure payment platform. Elavon's merchant solutions work with 3d Cart, Shopify, LemonStand, and Volusion shopping carts.
TALECH – Use your tablet as a POS system. They offer a system for restaurants and a system for retailers.
NCR SILVER – This POS system from Elavon allows you to accept payments, track sales, inventory, and hours. You can also perform social media and email marketing campaigns on this device. They offer a system for restaurants and a system for retailers.
ELAVON REPORTING TOOLS – Using Payments Insider, a customer portal for Elavon merchant services, merchants can create customizable reporting tools to help them more accurately see the on-goings of their business. View transactions, chargebacks, retrieval and funding activity.
ELAVON SECURE PAYMENT PROCESSINGS – Fraud and chargeback protection is offered through Safe-t Security Solutions.
ELAVON HANDHELD TERMINALS – These POS terminals accept all payment, offers a merchant display screen and a separate customer display screen (touch screen), a register app, a rechargeable battery, data security, simplified reporting software, 16GB of storage plus a USB port and speaker.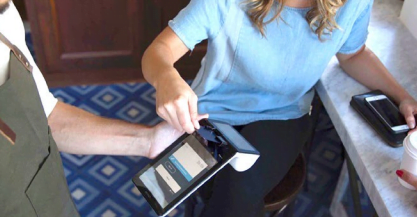 Elavon's Large Enterprise Specific Tools For Credit Card Payment Processing
ELAVON PAYMENT ACCEPTANCE – With Elavon, you can accept all forms of payment including credit and debit cards, electronic checks, mobile payments, and eCommerce payments. International payment acceptance is also an optional feature with Elavon's services.
ELAVON FRAUD AND CHARGEBACK TOOLS – Credit card and other payment data are secured through Elavon's payment platform. Elavon services are PCI compliant.
ELAVON INTERCHANGE ADVISORY AND OPTIMIZATION – Elavon claims to provide tools that help you to make sure you are getting fair interchange rates from the card providers used to purchase your goods and services. We take this with a grain of salt. Afterall, credit card processors (like Elavon) make a profit. Though they may be attempting to save you some frustration, they do not have the same savings incentive as the merchant. Verisave can compare your current rates to our proprietary data developed by working with over 500 companies to see if your savings could be increased. While Elavon's primary focus is on processing, Verisave's is on maintaining savings on all levels of processing.
ELAVON MERCHANTCONNECT REPORTING – Elavon has developed more in-depth tools for enterprise sized organizations to create detailed reports for better business management. These tools include Payments Core 365 and Online Case Management.
Elavon offers service packages specifically tailored to the needs of certain industries including healthcare, hospitality (restaurants and lodging), airlines, and the public sector (primarily state and local government, higher education, and utility services).
Merchants can also utilize merchant solutions from Elavon to provide loyalty rewards and programs to their customers.
Having worked with hundreds of companies processing credit payments every day, we can apply our proven savings strategies to your merchant account. Working with Verisave is all the customization you will need for setting up your merchant accounts. If Elavon is not the best option for your business, we will tell you who is. Give us a call before making long-term commitments to any credit card payment processor.
Elavon UI/System Integration
Elavon is fairly simple to integrate into a new business. If you have zero pre-existing merchant tools, it is an easy set up. They offer a useful support tool through BoomTown.
BoomTown, a third-party tech support company, provides local POS installation. If you are having troubles after the installation, they have an excellent video service for walking you through any troubleshooting. This service is available 24/7.
If you have existing tablets or other POS systems, you may need to speak with the sales rep to see which devices you currently own can be integrated with Elavon services.
How Much Will You Be Paying For Elavon Services?
Elavon offers low-cost, flat-rate packaging for small businesses; however, approval and acceptance are subject to underwriting review. The numbers below are a baseline, starting point.
Terminal Offer
Card-present transactions: 2.65% + $0.19 per transaction

Card-not-present transactions: 3.5% + $0.19 per transaction

$10.00 monthly account fee

One Ingenico iCT250 terminal ($499.00)
Mobile Offer
Card-present transactions: 2.65% + $0.19 per transaction

Card-not-present transactions: 3.5% + $0.19 per transaction

$10.00 monthly account fee

One Magtek aDynamo mobile card reader ($24.99)




Elavon does not disclose their pricing for large corporations. For this information, you will need to speak with a sales rep. Keep in mind that their pricing can be tiered and what you are quoted over the phone will vary based on multiple factors:
Your specific industry

Your monthly credit card processing volume

Your desired tools and package customizations

Your credit card industry knowledge and ability to negotiate fair terms
Having worked with Elavon through many of our clients, Verisave has developed proprietary benchmark data that allows access to more savings opportunities. We can help you save money on your overall merchant account fees with Elavon regardless if you are just starting with them or if you have been with them for a long time.  
Consider Elavon's Contract Length
Elavon has recently eliminated their early termination fee. So even though they have 3-year term contracts, you can technically cancel any time without penalty. But there have been complaints from customers who have canceled their services with Elavon only to continue receiving monthly bills for non-existent services. This problem is typically corrected by speaking with customer service.
Elavon does include an auto-renewal clause in their contract. Providing adequate notice can ensure your contract does not automatically renew at the end of your term.
Verisave customers achieve an average savings of 25%-35% in overall credit card processing fees with an audit from Verisave. If you are interested in Canceling an Elavon Contract, Implementing/Restructuring with Elavon, or Trying to Achieve Savings with Elavon, then speak with a Verisave merchant service expert.
Elavon Sales and Customer Service Reps
Elavon does not have a very user friendly website. Many of their icons link to the same pages while those pages still do not offer as much information as we would like. Our experience working with Elavon has been mediocre as their sales reps vary in how transparent they are with contract agreements and pricing. Elavon proudly claims to have no hidden fees which is true in general terms. But as merchant account auditors, we are well aware of the many miscellaneous fees that creep in.
Elavon's customer support receives a lot of scrutiny in online reviews and complaints about the company. Many customers have complained that once the contracts are signed and the sale of services are complete, customer support somewhat declines. While other companies offer volumes of online resources, call lines, online chat support, and email, Elavon's customer service is limited to a phone number and an email address. This is significantly less compared to other credit card processing companies of this size.
Unlike other companies, however, Elavon will assign your merchant account to a designated account manager who has the ability to be more familiar with your account than a random customer service rep in a call center.
Online Reviews of Elavon
Considering the size of the company, Elavon's BBB account has an expected amount of complaints and nothing close to alarming. As a company, Elavon manages and responds to their complaints which is uncharacteristic of large credit card processing companies.
A primary complaint seen most often online about Elavon is their lack of customer support, as discussed above. More common issues among customer complaints include withholding of funds when accounts have been terminated, high terminal lease fees, and PCI compliance issues.
If you lease a terminal with Elavon, expect a 4-year noncancelable contract.
VERISAVE MERCHANT SERVICES REVIEW
Elavon for Credit Card Payment Processing
As a single source provider, Elavon provides one point of contact for your company.
For your credit card payment processing, Elavon handles each one of these aspects:
Transaction Processing

Risk and Underwriting

Settlement

Chargeback Management

Reporting

Customer Service
This provides merchants more simplicity in handling their payment processing whether it concerns the point-of-sale (POS) configuration, mail-order payments, telephone-order payments, mobile payments, and e-commerce transactions.
Many businesses small and large use Elavon for credit card processing. Verisave merchant account experts are well versed in their products, offered rates across specific industries, common contract practices, and more. Working with Verisave will help you to avoid the common frustrations that customers have expressed in the past. With Verisave, you can expect transparent, measurable savings on overall merchant fees from Elavon.
Stay two steps ahead of the enrollment process with a team of merchant account auditors on your side when enrolling in merchant services with Elavon. With Verisave's developed proprietary benchmark data on Elavon you gain access to factual savings results that can be applied to your merchant account.
If you are currently using Elavon as your credit card processing company, you can still save money by working with Verisave. Submit your most recent merchant account statement and we will determine whether or not you could benefit from our services after performing a free audit of your account statement.